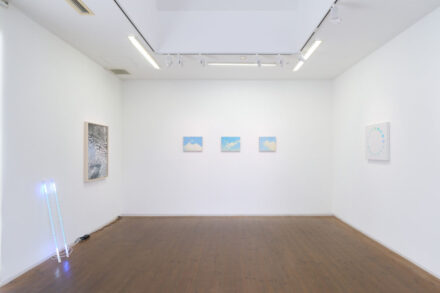 sky
7th Sat. October - 5th Sun. November, 2023. / Yutaka Kikutake Gallery (website »)
6-6-9 2F ROPPONGI MINATO-KU TOKYO 106-0032
12:00-19:00
Closed on Sun, Mon and National Holidays
Kouichi Tabata, Kisho Mwkaiyama, Reina Mikame, Nerhol, Takashi Kunitani
sky
CURRENT
October 7 - November 5, 2023
12:00-19:00 Closed on Sun, Mon and National Holidays
*open until 17:00 on 11 Oct. due to an event.
The gallery will be open from 10:00 to 18:00 during Art Week Tokyo (November 2-5).
Yutaka Kikutake Gallery is pleased to present sky, a group show featuring works by Kouichi Tabata, Kisho Mwkaiyama, Reina Mikame, Nerhol, and Takashi Kunitani. The show will be held from Saturday, October 7th through Sunday, November 5th.
Since ancient times people have turned to the sky as an outlet for poetic expression and sentiment, while its constantly shifting qualities have continued to inspire various fields of human endeavors including art, literature, and music.
Using the sky as a thematic focus, we have organized an exhibition of outstanding work by five artists represented by Yutaka Kikutake Gallery, including brand new work by Tabata, Mikame, and Kunitani. From the sky above our heads, to concepts of open space and emptiness, we encourage you to see for yourself the ways in which these contemporary artists have responded to this timeless subject.
Welcome. This is the Website of Japanese contemporary artist Takashi Kunitani.
2023 ©Takashi Kunitani All Rights Reserved. All Content is Protected by Copyright Laws. This Website Produced by
web.contempo.jp